The Heights/Hillcrest Master Plan Support Statement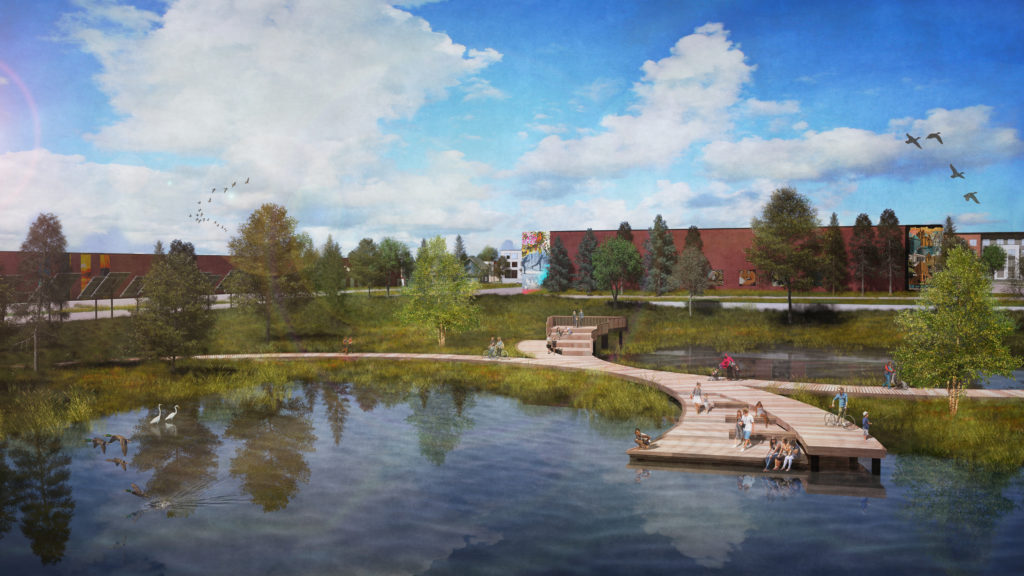 WE DO NOT WANT THE MASTER PLAN TO BE SLOWED OR STOPPED.
A handful of detractors should not overshadow the hard work of many over the past few years. Slowing the Master Plan for the sake of personal interest puts the entire plan in jeopardy. The longer the site stays vacant, the longer the city goes without much needed housing, jobs, tax relief, and green space to enjoy (i.e., parks, trails, dog parks, community gardens, and gathering areas). A delay also puts funding sources at risk.
THE HEIGHTS/HILLCREST MASTER PLAN PROVIDES FLEXIBILITY AND LEAVES ROOM FOR FUTURE COMMUNITY ENGAGEMENT.
Even though a Master Plan dictates zoning and the location of things like streets, buildings, and green space, it doesn't go into specifics on how these components will come to life. That is the role of the landowner. As such, we will continue our community outreach efforts. This will help us make more informed decisions around housing, urban design, sustainability, and outdoor spaces.
AFFORDABLE HOUSING WILL BE A PROJECT PRIORITY.
We've heard the message loud and clear, the community wants affordable housing. This includes both deeply affordable and long-term affordability options. To that degree, we have been in contact with affordable housing developers who have expressed initial interest in the site. At the same time, no decisions have been made as to the actual mix of affordability options. A Housing Workgroup will convene in late 2022 to bring community voices into the conversation and help guide strategies and decisions. It is important to point out that public subsidies, including TIF financing, have not been ruled out for affordable housing investments.
ONE SIZE DOES NOT FIT ALL.
We have seen a wide range of opinions around the preferred size for housing units. While some prefer single-family homes, others are asking for high rises. We believe the compromise, found in The Heights/Hillcrest Master Plan, which transitions from low- to high-density, is a good solution. The Port Authority would also like to see high-density housing units with ground floor mixed-use spaces. Concepts that may work include retail options, community spaces, and shared space for the faith community. None of these has been decided.
LEAVING A SIGNIFICANT PORTION OF THE SITE AS GREEN SPACE WOULD CREATE A SIGNIFICANT TAX BURDEN ON SAINT PAUL RESIDENTS.
Converting a commercial golf course into a publicly managed green space is not feasible from a budgetary standpoint. The city's parks department has neither the capacity nor the resources to manage more than a five-acre active park. In addition, the financial impact to maintain more than that would put a significant burden on residential taxpayers. With that said, the Port Authority will work with the community to maximize the potential of an additional 15-acres of publicly accessible green space as previously agreed upon.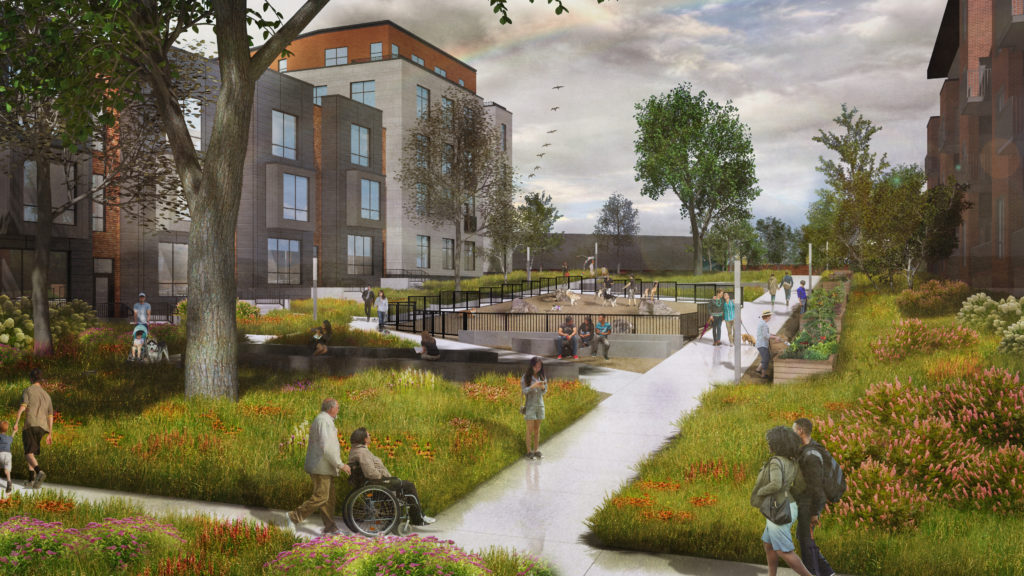 RESIDENTS WILL HAVE ACCESS TO NEW OUTDOOR SPACES.
At this time, no decisions have been made as to the design of the 15-acres of green space, which will be above and beyond the 5-acre city park. Survey results show the most desired outdoor amenities, aside from public art, include an expanded trail network (17%); gardens/benches/water features (17%); park equipment for children (13%); gazebo/picnic areas (13%); and multi-generational exercise equipment (8%). The Port Authority will convene an Outdoor Spaces Workgroup, starting in the summer of 2022, to bring community voices into the conversation and help guide strategies and decisions.
A COMMUNITY BENEFITS AGREEMENT WILL BE IN PLACE FOR COMMERCIAL LAND SALES.
In anticipation of an approved Master Plan, the Saint Paul Port Authority has spent over a year working with a diversity, equity, and inclusion consultant to guide staff and community stakeholders through the process of developing a new community benefits model that better reflects neighborhood need. This agreement will drive job density, sustainability, living wages/benefits, and local hiring targets. The first draft should be available online by the end of 2022.
LIGHT INDUSTRY WILL BRING JOBS AND TAXES TO THE COMMUNITY.
Some have asked why the Port Authority advocates for light industrial growth in Saint Paul, wondering if these businesses would be better served in communities like Oakdale. On the contrary, we disagree. In fact, since we've acquired the site, we've received numerous calls from light industrial business owners wanting to relocate to The Heights because of its location and access to a larger labor pool. If the Master Plan stalls, there is a strong likelihood these businesses will go elsewhere, and the jobs and tax revenue will go with them.
Taxes are an important part of this conversation. Our research shows that light industrial businesses pay more than their fair share in taxes compared to the services they use. On the flip side, residential taxpayers use more in services than they pay in taxes. Balancing the tax base by bringing in light industrial businesses can reduce the burden of residential taxpayers.
It's also important to point out that in 2020, the Port Authority had 8 businesses bound by workforce agreements. In those businesses, average hourly wages were $22.82/hour. 347 employees lived in the City of Saint Paul and 161 lived on the East Side. This is just a snapshot in time but speaks to the fact that hundreds of Saint Paul families have benefited from Saint Paul Port Authority Business Centers with jobs that offer living wages, employee benefits, and are close to home.
INDUSTRIAL BUILDINGS MUST BLEND WITH THE NEIGHBORHOOD.
We appreciate the fact that light industrial buildings must blend with the existing neighborhood. In response, we are working with architects and community members to find creative urban design solutions. The goal is to go above and beyond anything that has ever been done in a Saint Paul business park. Anticipated tactics to greatly improve the aesthetics include the use of public art and creative landscape design.
And while some feel it would be best to build up, and design multi-level, light industrial buildings, market demand and operational feasibility say otherwise. And for those who are asking about bringing in multi-level office space, we don't recommend it. It's a challenging market right now as businesses continue to weigh the pros and cons of investing in office space, scaling back with a hybrid model, or encouraging employees to work from home.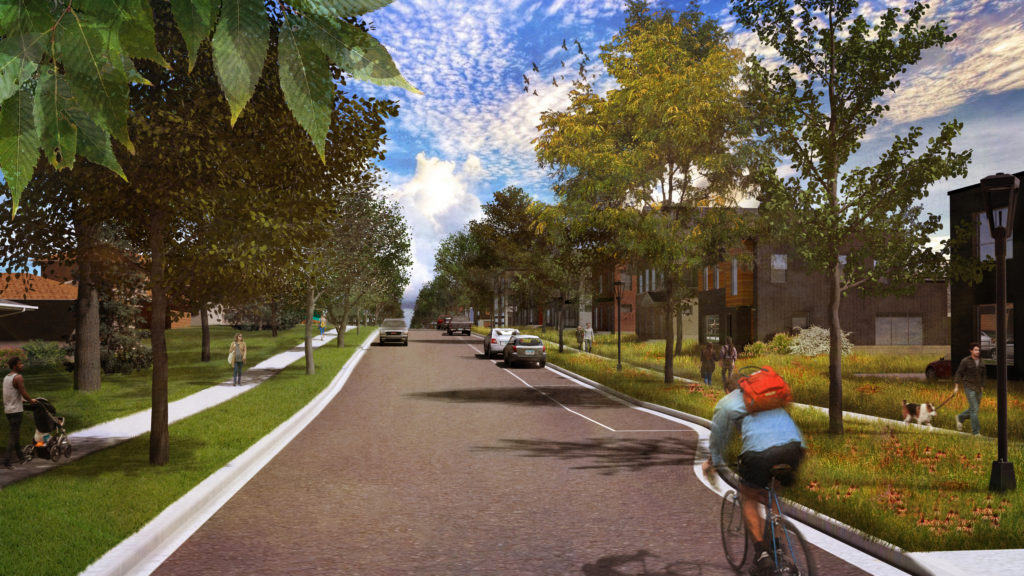 REMEDIATION IS UNAVOIDABLE.
There are people in the community who think we have overstated the contamination found at Hillcrest. We'd like to counter this perception. A team of civil and environmental engineers tested the soil and found that remediation is required for any significant redevelopment plan.
Furthermore, it is inaccurate to compare Hillcrest to recently redeveloped golf courses. In this case, contamination was more widespread. On most courses, mercury is contained within the greens and maybe a few tee boxes. At Hillcrest, contaminants were also found in the fairways, wetlands, and other hotspots throughout the course.
The Port Authority will continue to work Minnesota Department of Agriculture and the Minnesota Pollution Control Agency to ensure the site is cleaned, protecting both the environment and health and wellness of future generations.
It is also important to point out that the Port Authority competes with other entities for brownfield cleanup grants. To quality, projects must focus on economic development outcomes. To summarize, cleanup funds would not be available without jobs, tax base, and housing goals.
WE WILL REPURPOSE TREES.
It is important to repurpose trees that are taken down because of soil contamination. We believe some will work well onsite to create benches, trails, or artwork. We are also exploring opportunities to donate to organizations that will use lumber for other purposes.
THERE WILL BE NO NET LOSS OF WETLANDS.
Unfortunately, we have found contamination in the wetlands. All but one has elevated mercury levels. We will preserve the non-contaminated wetland. We will remediate and restore the rest at a 1:1 ration. This will entail keeping half where they are and moving the other half elsewhere on the site. We are working on this in partnership with the Ramsey Washington Regional Watershed District.
HILLCREST HAS TRADITIONALLY BEEN A PRIVATELY-OWNED PROPERTY.
In the past, Hillcrest was a destination for golfers who paid to be on the course. We look forward to a future where families will have access to a new park. Walkers can take advantage of expanded trails. And new community spaces will be more readily available for public use. As for the clubhouse, it is less than 20 years old and holds no historical value.
COMMUNITY ENGAGEMENT DOESN'T END WITH THE HILLCREST MASTER PLAN.
We appreciate the fact that the City reached out to 1,300+ people in their community engagement efforts. Add to that the 500 people we've already connected with and we're off to a great start. Going forward, community engagement will continue to be a priority throughout the redevelopment process.
Right now, we have two active workgroups in session. One focuses on urban design and the other on sustainability. They will meet through May 2022. Later in the year we will bring together two new workgroups, one focused on housing and the other on outdoor spaces. This does not include plans for the city-managed, five-acre park.
CONTACT US
We're here to answer your questions and address your concerns regarding the redevelopment of the former Hillcrest Golf Course in Saint Paul.