The Saint Paul Port Authority has a multi-faceted vision for The Heights redevelopment project, which will follow the City's master plan. To start, we will clean-up the site in preparation for redevelopment. We are in a strong position to do this work, thanks to a long-history of redeveloping distressed properties.
Stress factors at The Heights include soil contamination, lack of infrastructure, and topography challenges. As we eliminate these risks, the site will become more attractive to private investors. In fact, we believe The Heights will soon represent the largest investment in Saint Paul's East Side.
The Heights Vision: Parks and Open Spaces
At this time, there is a degree of apprehension around the loss of the golf course. A fear of the unknown. Consequently, we are engaging with the community to better understand their wants and needs. We are then balancing this information with what we believe is feasible for the site.
Throughout this process, one thing remains clear: We need to protect the integrity of the neighborhood. Along those lines, we will protect up to 20 acres of green space. This could include parks, open spaces, and both stormwater and wetland amenities.
While the Port Authority will design and construct these spaces, Saint Paul Parks and Recreation will maintain up to five acres. The Port Authority will maintain the remaining 15 acres. Green space will also play an important role as a buffer between light industrial and residential properties.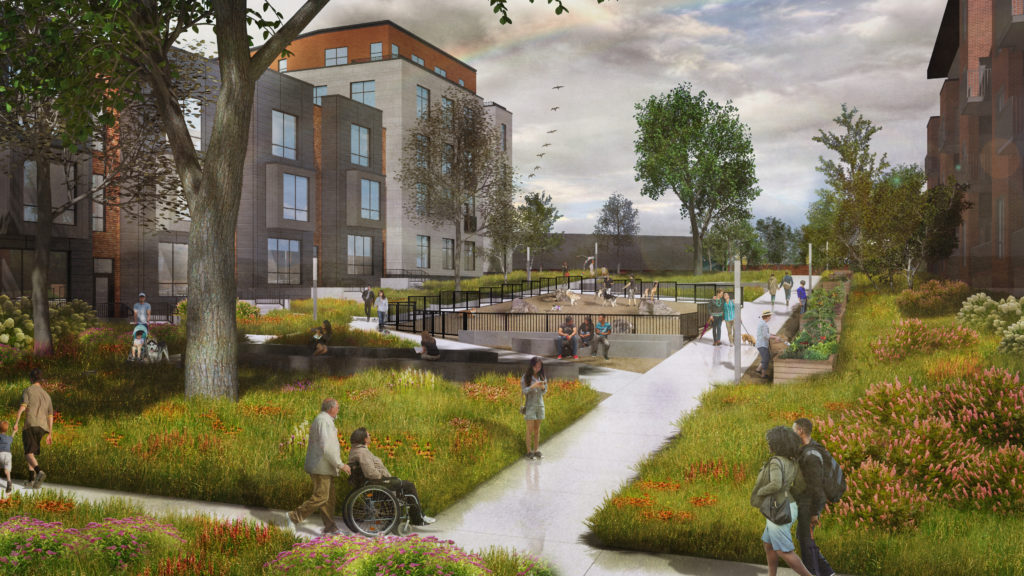 The Heights Vision: Healthy Neighborhoods
The Saint Paul Port Authority is committed to advancing sustainable design and equitable development. Along those lines, we will advocate for  Next Generation Stormwater Management systems, renewable energy systems, and sustainably-designed buildings.
In addition, all light industrial buildings will be required to go through our Green Building Design Review. The end-goal is to identify new ways to improve worker health and productivity, minimize environmental impacts, and protect the health and safety of those living and working in the neighborhood.