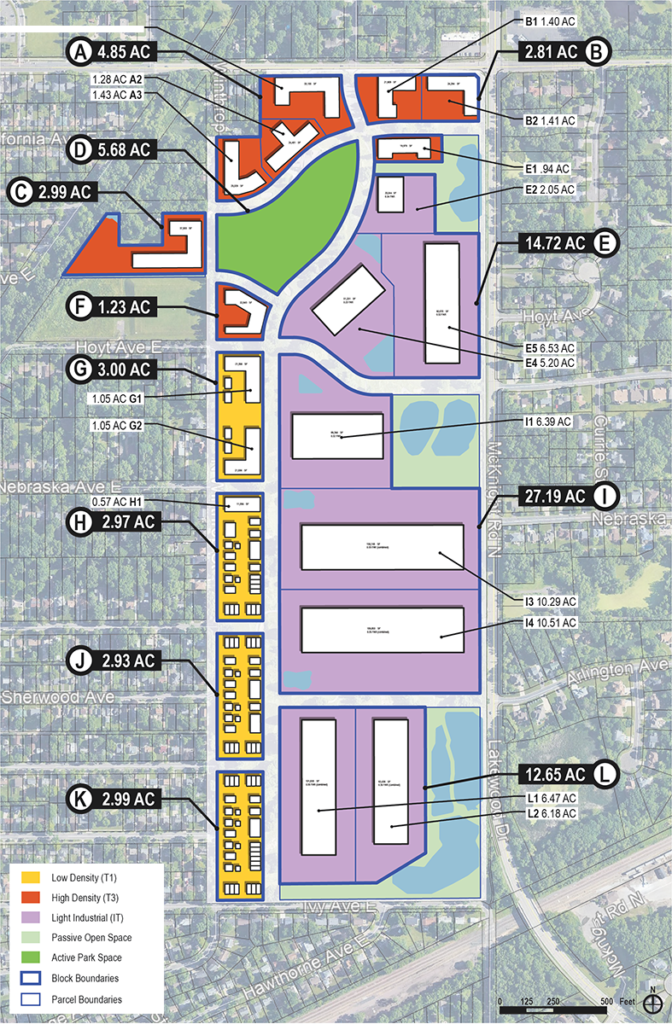 Xcel Energy is the First Employer to Commit to The Heights
Xcel Energy has signed a purchase agreement to build a new service center on a 20-acre property at The Heights. This move positions Xcel to better meet the needs of its customers and employees for years to come.
"We are strongly committed to the Saint Paul community and excited to be the first business and anchor tenant announced for The Heights," said John Marshall, regional vice president of Xcel Energy.
Bringing Jobs to Saint Paul's Eastside
The Saint Paul Port Authority has a successful track record attracting and protecting jobs across the City of Saint Paul. In most cases, we focus on light industrial companies that are positioned for growth, pay living wages, and offer both employee benefits and room for advancement. At The Heights, our goal is to bring 1,000 new jobs to Saint Paul's Greater Eastside.
Check out this Star Tribune article about jobs at The Heights.
Jobs on the Eastside
Did you know Cub Foods is District Two's largest employer? We've had numerous conversations with community leaders and most agree: The Eastside needs more jobs with higher pay. Let's use 2019 as an example. Although unemployment had dipped below 6 percent before the pandemic, 33 percent of households still made less than $35,000/year. The fact is, having a job and thriving in a job aren't always the same thing. Our goal is to change this.
*Source: Minnesota Compass
Working Closer to Home
So what are the transportation issues? To start, most Eastsiders prefer a commute of 30 minutes or less to get to work (Source: Eastside Employment xChange data). And yet, according to Minnesota Compass, 39% of Eastsiders' commutes exceed 30 minutes. Furthermore, 6% of households rely on public transportation and 12% don't have a car. Having a living wage job, closer to home, alleviates these stress factors and provides a better pathway to financial stability.
Partnering with the Eastside Employment Exchange
How will Eastsiders learn about job opportunities coming to The Heights? Our partnership with the Eastside Employment xChange will play a big part in this initiative. Similar to the work they've done at Beacon Bluff, the Xchange will connect with employers to capture information about jobs, hiring processes, and ideal job candidates. They will then work with the employment agencies that work directly with residents to facilitate employer/employee matches.
Light Industrial Neighbors
But what does it mean to live near a light industrial business? Let's start with what light industrial isn't. Light industry isn't smokestacks, pollution, or dark, dank working conditions. On the contrary, light industry offers clean, safe environments. Light manufacturers tend to focus on consumer goods. In our other business centers, there are companies that brew beer, bake buns, manufacture medical devices, and other similar endeavors.
These businesses also make positive contributions to the City. While relocating, they make significant investments in the community. Once their doors open, they are eager to hire locally. In addition, light industrial employers tend to be more open to hiring people who have been in the justice system and need a second chance.
New jobs may be available at The Heights site as early as 2024.