SOIL CONDITION
From the beginning, we knew soil contamination was a concern at the former Hillcrest Golf Course. Initial tests showed signs of soil contamination, resulting from mercury-based fungicides used between the 1930s and 1990s to reduce mold growth on greens and fairways. In addition, we found traces of petroleum-based products used in general course operations. In both cases, contamination was only found in the top 36″ of soil.
Once a final Master Plan is in place, the Port Authority will lead the process of removing and/or reusing contaminated soils in a way that protects the health and safety of the neighborhood. We will take the most contaminated soils off-site.
We will then reuse lesser contaminated soils under roads, parking lots, and utility areas where they won't be disturbed. Finally, we will place environmental covenants on underground soils to protect future generations.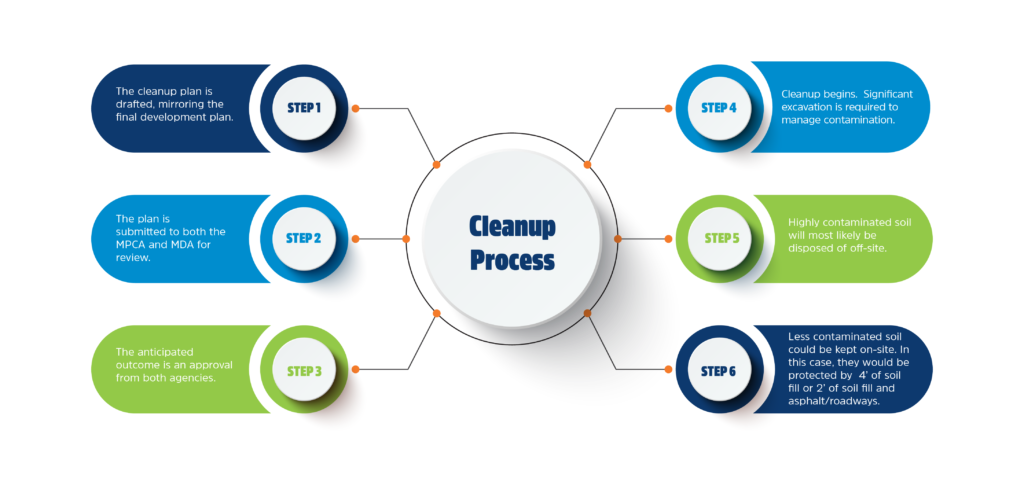 REGULATORY BODIES
Throughout this process, the Minnesota Department of Agriculture will be the primary regulatory body. In addition, the Port Authority will follow the Minnesota Pollution Control Agency's regulatory process from start to finish. Together, these programs protect both the community and workers on the site by limiting the spread of contamination.
ALTERNATIVE URBAN AREA WIDE REVIEW (AUAR)
The City of Saint Paul has kicked-off the AUAR process. According to the Minnesota Environmental Quality Board, the AUAR helps local governments look at the impacts of anticipated development scenarios within a given geographic area. This information then informs planning and zoning decisions. Since this is not our area of expertise, we have contracted with WSB to assist with this process.
CONTACT US
We're here to answer your questions and address your concerns regarding the redevelopment of the former Hillcrest Golf Course in Saint Paul.