Stacking Treasure Island Center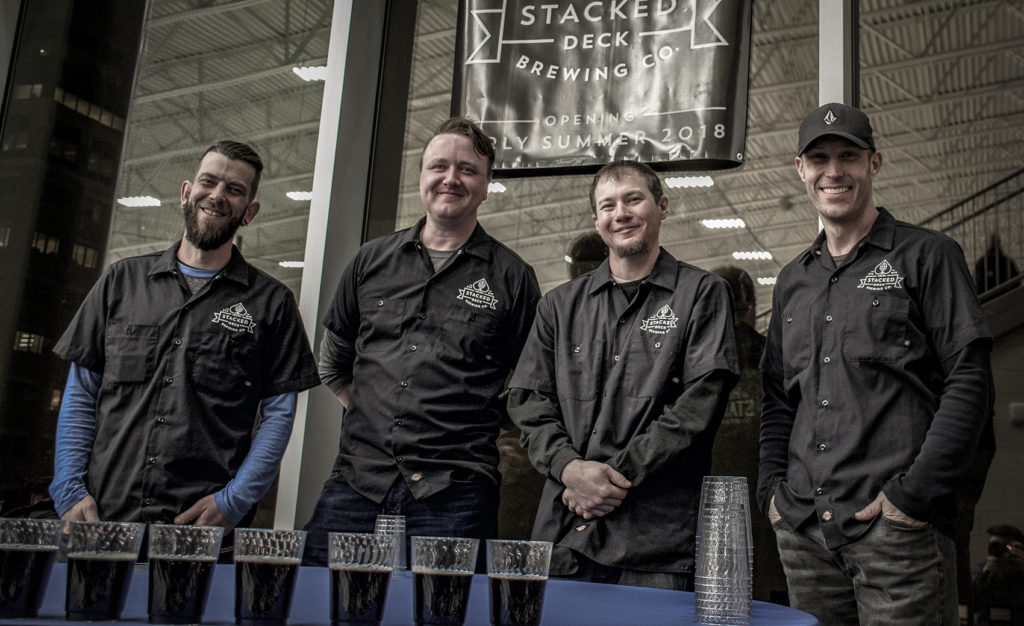 To Celebrate #InternationalBeerDay, we sat down with Andy Erickson and Brad Randall, two of Stacked Deck Brewing Co. three founders. Stacked Deck will soon be opening at Treasure Island Center!
How did you decide on Treasure Island Center?
Brad: Starting a brewery is quite an undertaking. Shortly after Andy Erickson, Scott Wege and myself began looking for spaces, we met Lee Krueger. Once he explained his vision for what was then known as the old Macy's building, and where he saw us fitting in, we were sold on the spot.  When we open our doors we plan to start with 5-6 employees but with a little luck and a lot of hard work, we're hoping to grow.  It's possible that within a year we may have up to 15-20 employees.
How did you get the idea or concept?
Andy: Scott and myself have been dedicated home-brewers for 12 years.  We discovered early on how to manipulate the ingredients. When we first started to brew, the craft beer selection in the Twin Cities wasn't nearly what it's like today.  Finding the type of beer I enjoy was challenging to say the least. The more we experimented,  the more obsessed we became to explore different styles and perfect our recipes. Within a year of starting we were brewing on my patio two to three times a week even in the dead of winter, and always jumped at the chance to share our creations with friends and family. Once we really honed our skills, we discovered that we couldn't keep up with the demand for our beer so that's what led to the thought that starting a brewery might not be that crazy of an idea.
Brad: I'm a graphic designer by trade.  I initially met Andy and Scott with the intent to help them craft their branding. Once I tasted their beer I was blown away.  I knew immediately that I needed to be involved. When we began to concept a name for the brewery, we thought about the nature of starting a business, the risk that's involved.  It's definitely a gamble but we knew the beers we were brewing were so good that we were not only "stacking the deck" in our favor, but our customers as well. And that's how the name and brand came into being. We actually settled on the name before we learned that the building would be named the Treasure Island Center, so the coincidence is pretty awesome.
What's unique about Stacked Deck Brewing?
Andy: We pay extremely close attention to make sure each beer we create is an unflawed, well-crafted product. We focus on a wide range of time-honored traditional beer styles and creatively add our own unique twist.  Each brew has it's own distinct style, color and taste. Variety is really important to us and we never want to feel like our beers taste the same.
Brad: Along with our wide range of beers, we know how important the overall taproom experience is.  So, in working with our architects (Wittkamper Reiff), we set out to create a space that's really inviting, comfortable and a place families would want to bring the kids. A fun and unique atmosphere where you can enjoy a fantastic beverage, hangout and catch a live band on our stage.
What made you want to move to Saint Paul?
Brad: So for starters we were all born here, we all love the area and consider ourselves to be "Saint-Paulites." We knew that we not only wanted to be here but we needed to be here.
Andy: We're both humbled and excited to be a part of such great brewing community on this side and the other side of the river. We're looking forward to collaborating with many of the really creative and talented breweries in the Twin Cities.
What's the most exciting part about moving to TIC?
Brad: We all grew up playing hockey so having the Wild Practice facility, Hamline Hockey, youth hockey, and now the Minnesota's first WNHL team, the Whitecaps all in the same building—I mean seriously you can't beat that!
Andy: Hockey and beer go together perfectly so it definitely gets us excited. Then you put us in the heart of downtown with direct skyway access, the light rail right outside our front door and all the different events? It's the ideal spot for us.
What is something you want Saint Paul to know about Stacked Deck?
Brad: As far as beer goes, we don't hold to one style. We don't specialize in one thing, we strive to make something for everyone, and our brewers have been perfecting their craft for over a decade so our brews are varied and there isn't a common taste or flavor they all share.
Andy: We do truly have everything from delicious light ales and lagers to heavy dark stouts and porters that pour like motor oil, as well as seasonal brews, ciders and mead along with ginger beer, and root beer for the kids. We do it all, and it all taste great.