Hillcrest Reimagined as The Heights
New Name. Fresh Renderings. New Heights.
The Hillcrest redevelopment project will now be known as The Heights. This name was selected by a team of East Side residents who filtered through scores of suggestions that were shared online.
Ultimately, the group selected a name that reflects the past, present, and future of the site. At the same time, the name pays homage to the pride neighbors have in being the highest point in the City. The Heights also represents a nickname some already have for the area. Furthermore, it speaks to the heightened opportunities that will stem from redevelopment.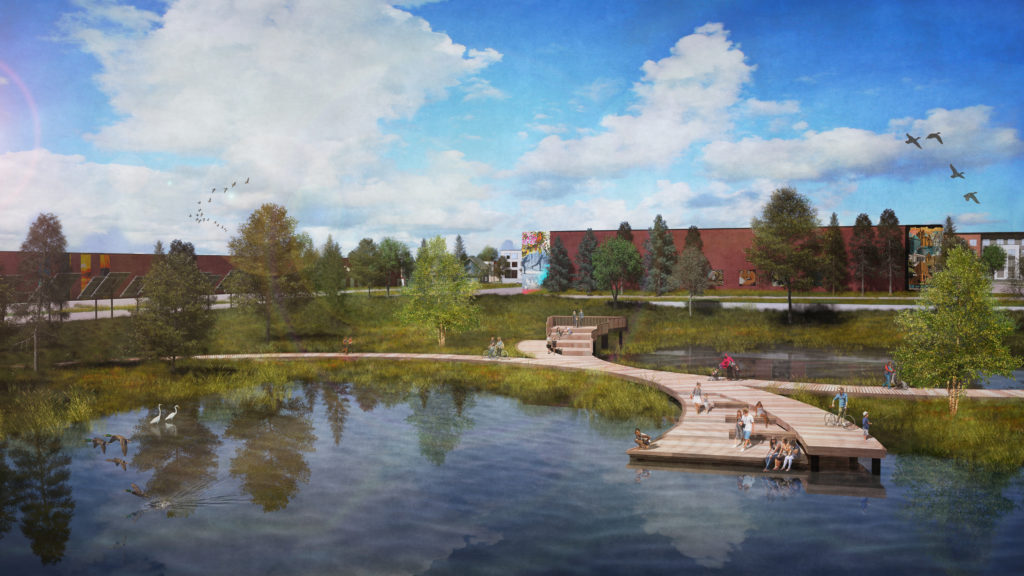 The Heights Renderings
To illustrate The Heights' potential, the Port Authority released new renderings. While these are not final designs, they are based on the proposed Master Plan. Each image was influenced in part by community engagement discussions led by the Port Authority throughout 2021. Furthermore, community engagement will continue to influence Port Authority decisions as they bring the Master Plan to life.
"We truly believe bright futures are within reach at The Heights. We support the City's vision for the Master Plan and are eager to get to work. As an economic development agency, we look forward to bringing good paying jobs and much needed housing options to the East Side." said Todd Hurley, interim CEO at the Saint Paul Port Authority.
In preparation for an approved Master Plan, the Port Authority pulled together two neighborhood workgroups: one focused on urban design, the other on sustainability. Meetings started in January 2022 and continue through May 2022. Two new workgroups will follow. One focused on housing will kick-off this summer and another focused on outdoor spaces will start this fall. The Port Authority will begin recruiting community members this spring.