Sustainable Design Conversation with Monte Hilleman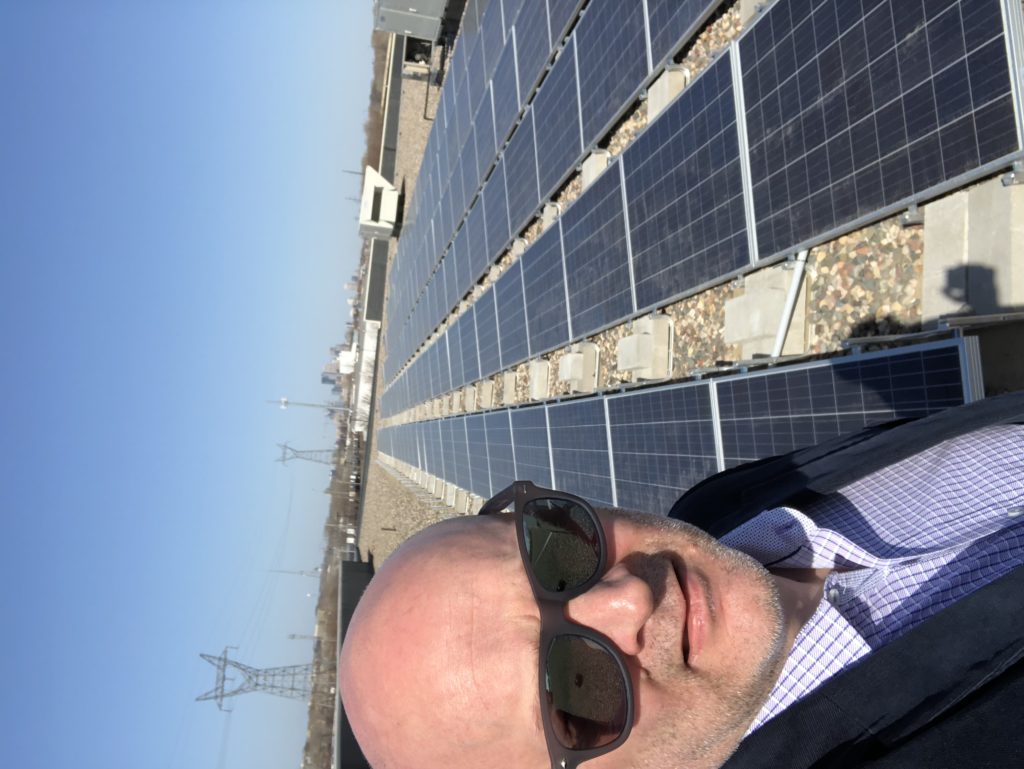 Q: How did you get involved with sustainable design?
Monte: My introduction to sustainable design came through the lens of an environmental justice student in the urban studies program at the University of Minnesota. I learned there was a great deal of unfairness and inequity in the distribution of contaminated industrial sites.  And, as someone who lived in Minneapolis at the time, I saw it first-hand. Since then, my career has focused on reversing the negative effects of contaminated industrial sites, which tend to be in predominantly low-income, BIPOC communities.
Q: Why is it important for the Saint Paul Port Authority to bring sustainability features into their new office space?
Monte: We view this as an opportunity to live our organization's mission of advancing sustainable development. For decades, we've consulted with property buyers and guided them through a green design review process. As a result, significant energy-saving investments have been made. Now, with our exit from the Infor building, which allows MRO to increase their space on the 8th floor, we have the opportunity to practice what we preach.  
Q: What is the Port Authority's vision for the project?
A: In partnership with LHB architects, we've developed design plans around the themes of accessibility, visibility, sustainability, and employee wellness. From there, we defined strategies that will effectively reduce our carbon footprint throughout the construction phase and future operations.
Q: Were there any financial limitations to executing the defined sustainability strategies?
Monte: Absolutely, but this always happens when you put pen to paper. Your initial designs include everything you could possibly want in your project. From there, you move into the value engineering phase. You have to look at material costs and find ways to keep what is most important while staying within budget.  This project was no exception. We spent time working with the design team and contractors to refine our plans and select cost-effective materials. In this case, we prioritized high-performance design and wellness components.
Q: What are the most cutting-edge sustainable design components for this project?
Monte: First and foremost, we are committed to earning a LEED Gold certification. Through a scorecard model, we are making decisions on at least 50 different credits. These range from access to bicycle parking to the adhesives used on carpet tiles. And, because this is an interior space with no natural light, our design team recommended CoeLux lighting. It's an optical system that reproduces natural light with the appearance of the sun and sky. It was important from an employee wellness perspective that people didn't feel like they were working in the middle of a bunker.
Another key component will be our HVAC system. Prior to COVID-19, we were inspired by a Harvard cognitive effects of green build study. It talked about the connection between employee productivity and HVAC systems that circulate more fresh air and reduce carbon dioxide in the space. Since then, these same strategies have become the gold standard for protecting employees from the spread of viruses.
Finally, we are implementing Power over Ethernet (PoE). It will allow us to control our lighting and electrical devices through a computer interface, with low-voltage DC-power instead of AC-power. From an environmental perspective, we will realize significant energy savings.  From a cost perspective, we will reduce the time and cost associated with installing electrical power cables. And, while this feature is used sparingly today, we foresee PoE becoming the norm in the next 5 to 10 years.
Q: Are you learning things that can be duplicated across the State of Minnesota?
Monte: Definitely. Once the project is finished, and COVID-19 protocols ease, we will connect with our peers in the commercial real estate industry. And because seeing is believing, we will provide tours and share results. In our opinion, on-site visuals illustrating energy-use and other sustainability metrics will be the best way to share our story.