Sustainability At The Heights: A Pathway to Excellence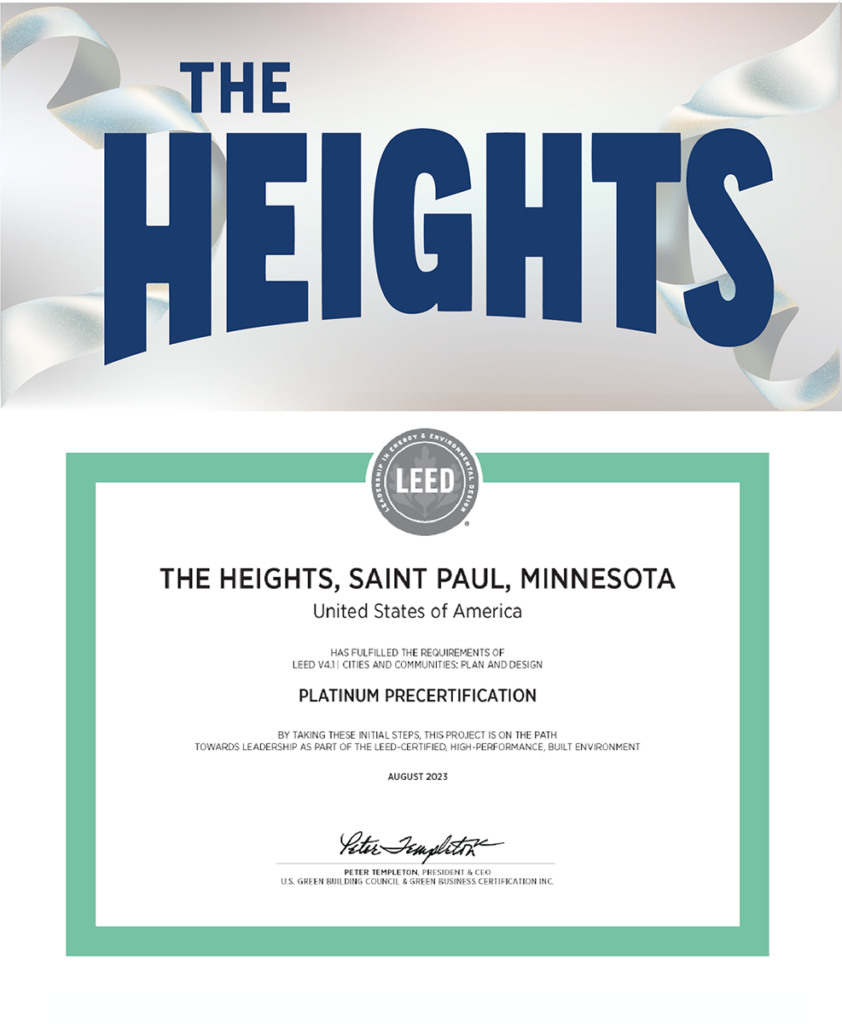 At the Saint Paul Port Authority, we understand the urgency to mitigate the effects of climate change and recognize the importance of reducing energy use and CO2 emissions. This is the driving force behind our goal to achieve a LEED for Communities Platinum certification.
Sustainability Plans for The Heights
On the road to becoming a carbon-free community, we've set the stage for a stronger reliance on clean energy. At The Heights, we are limiting the use of natural gas and opting for electricity generated from renewable sources. Plans are already in place for property owners (light industrial and multi-family) to maximize their roof space with solar installations. In the end, we want the site to generate more electricity than it uses.
We are also focused on future-proofing our sustainability plans at The Heights, to ensure the investments being made stay relevant longer. To achieve this goal, all buildings, except for single-detached homes, will need to meet a minimum efficiency standard that is 50% higher than the Department of Energy's current requirements. Furthermore, the infrastructure will be EV-ready, in anticipation for the increased use of electrical vehicles.
Additional strategies are in place to enhance the quality of life for those who live and work in the area. Street designs will prioritize pedestrian safety. Relevant features include sidewalks with physical buffers and dedicated bike lanes. There will also be an extensive trail system linking properties and offering convenient accessibility. Public transportation falls outside of our scope, but we will still advocate for covered, partially enclosed bus stops with seating and posted schedules.
Managing Expectations
For each construction project, we will require property owners to have a Construction Waste Management Plan in place. The end goal is to limit the amount of waste that ends up in a landfill to 25% (allowing for no more than 50%.) This is significantly less than the average trend, which stands closer to 70%.
Property owners will also work towards the goal of achieving a LEED Silver certification or higher. For our part, we have committed to using recycled materials when putting in the infrastructure. Opportunities include Recycled Asphalt Pavement (RAP) and recycled cement. We have already started recycling trees, using them as mulch on site. In the future, we will re-use wood for public art and interactive play areas.
With a precertification in hand, we're rolling up our sleeves, ready to do the work outlined in our LEED application. In alignment with our mission, our intent is to serve as a leader in sustainability and create a process at The Heights that can replicated throughout the region and beyond.