MinnPACE and SPIRE Receive National Recognition as Energy Finance Leaders
PRESS RELEASE
Contact: Andrea Novak | aln@sppa.com | 651-204-6233
MinnPACE and SPIRE Credit Union Recognized as Leaders in Energy Saving Finance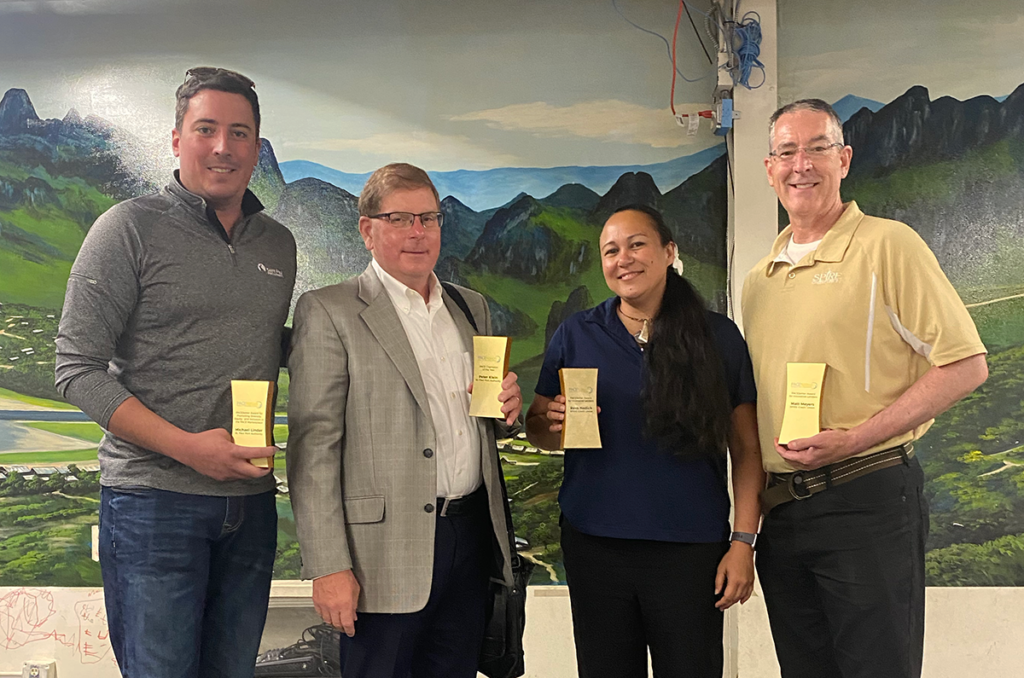 PACENation announced the 2021 PACEChampion and PACESetter Award winners on Wednesday, June 23. Peter Klein, vice president of finance at the Saint Paul Port Authority received the highly coveted PACEChampion Award for being a leader in the field,  developing an innovative program in Minnesota, and serving as a mentor to peer states nationwide.
According to the program presenter, MinnPACE  is "quietly one of the most accomplished and effective C-PACE programs in the entire country. Under Pete's leadership, MinnPACE has successfully engaged the banking community and proven that C-PACE can be an effective financing tool for small businesses."
Servicing small businesses is what makes Minnesota a standout in the PACE world. "If you really want to help small businesses, including women and minority led organizations, we will help you anyway we can," said Klein. In the past 10 years, MinnPACE has funded close to 350 transactions, a number that significantly grows  year-over-year. From that pool, approximately 250 transactions were under $250K and about one-third were organizations led by women and/or minorities.
According to Klein, "This model is replicable. In fact, we have recently talked with multiple states including Montana, Rhode Island, Pennsylvania, Alaska, Wisconsin, and Oklahoma."
Additional Awards
Michael Linder, loan officer with the Saint Paul Port Authority, was recognized as a 2021 PaceSetter for Promoting Diversity, Equity, and Inclusion in the PACE Marketplace.  Rafi Golberstein, CEO of PACE Loan Group, received the PACESetter Award for Achieving Environmental, Economic, and Resilience Impact.
Matt Meyers and Rava Nedich, both with SPIRE Credit Union, received PACESetter Awards for being Innovative Lenders. Specifically in Minnesota, credit unions play a key role in funding MinnPACE transactions by providing the equivalent of a $50 million line of credit. With this support, the Saint Paul Port Authority is able to revolve its TrillionBTU loans more quickly and get more projects done. MinnPACE also partners with national PACE funders on larger transactions.
MinnPACE FAQs for 2020
$40.3 million in energy saving investments were funded through MinnPACE
89 percent of MinnPACE loan volume was funded through national PACE funders and credit unions; 11 percent was funded through the Port Authority's TrillionBTU loan program
35 percent of all MinnPACE transactions included solar investments
30 percent of all MinnPACE transactions were tied to ag businesses
33 percent of all MinnPACE transactions were tied to new construction
Recent MinnPACE Transactions
Hmong Village | Saint Paul | $315K for LED, HVAC, and refrigeration
Green Gate Guest Houses | Biwabik | $62K for solar
Lettuce Abound | New London | $235K for LED lighting retrofit
New Construction Hotels | from Austin to International Falls | Total: 8
New Construction Senior Living Facilities | Statewide | Total: Close to 20
The Beginning of MinnPACE
Klein shared how he first got involved with the PACE program through his work at the Saint Paul Port Authority. "The largest recycler in the midwest was about to close. We didn't want to lose 500 union jobs, so I was tasked with saving them. Essentially, we went to work on their energy efficiency. Through this work, we reduced their energy consumption from 2.3 million MMBTUs to 1.7 millionMMBTUs. That change shifted them from being the highest cost producer to the lowest. That's when the light turned on for me. Energy efficiency is a great investment," Klein explains.
Following that experience, Klein created the Port Authority's TrillionBTU loan program.  From there, the Department of Commerce asked Klein and the Saint Paul Port Authority to take on PACE. Since then, MinnPACE has supported $200 million in energy efficiency and renewable energy investments. MinnPACE is available to commercial real estate owners statewide, through Joint Powers Agreements with cities and counties. Thanks to PACE, TrillionBTU funds have revolved 10 times over in only 10 years.
About MinnPACE
MinnPACE, managed by the Saint Paul Port Authority, is Minnesota's primary source for Property Assessed Clean Energy, Limited to commercial properties, MinnPACE allows property owners to invest in energy efficiency upgrades and renewable energy installations with a unique payment structure that keeps payments affordable. Property owners agree to a voluntary tax assessment, at an amount not to exceed 20 percent of their property value.
Funds are provided up-front with no payments due until the following calendar year. In most cases, the energy savings exceed the bi-annual payment obligation, making investments cash positive. Add in the benefits of a fixed, long-term rate and it's a win to both the environment and the property owners bottom line.