We Are Pre-Qualifying Artists at The Heights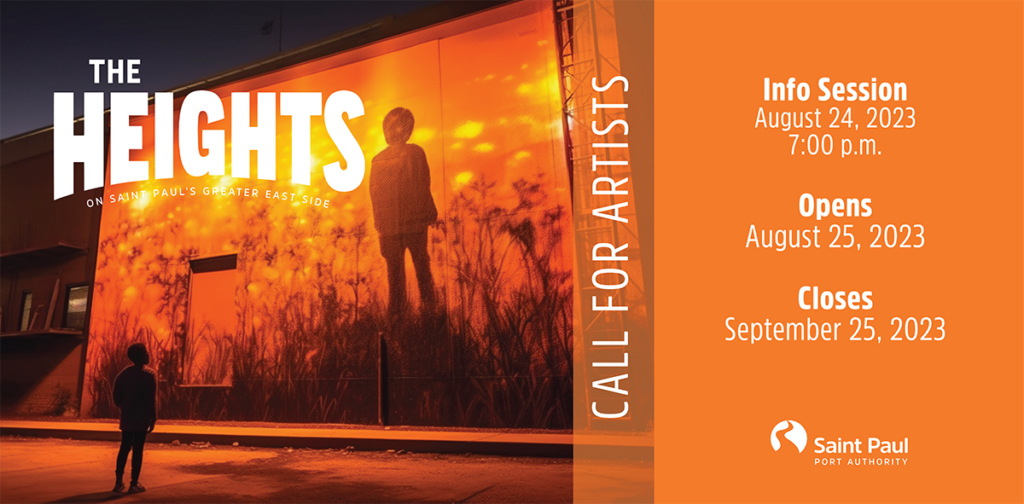 Local Artists are Encouraged to Apply
We are doing a call to pre-qualify artists to be part of public art at The Heights.
The Saint Paul Port Authority is partnering with Forecast Public Art to bring public art to The Heights. For this endeavor, we plan to stagger installations between the years 2025 and 2029. Priorities include murals, benches, interpretive signs, and an interactive play area.
This plan came together after two years of active community engagement. And, while we have identified big picture concepts, we have left ample room for artist creativity. Furthermore, each installation presents a fresh opportunity to showcase the rich cultural history of the Greater East Side, highlighting its past, present, and future.
CONFIRMED OPPORTUNITY: Mural Portfolio
Following community recommendations, light industrial buildings will be transformed into colorful masterpieces adorned with murals (artwork reproduced at a larger size). The goal for these pieces is to tell the story of The Heights – including both its people and natural resources. Select artists will be invited to submit mural concepts for a stipend. Additional payment will be made when concepts are selected for reproduction.
POTENTIAL OPPORTUNITY 1: Public Art Benches
Next is a vision for creative benches that celebrate the rich and unique character of the Greater East Side. As such, we anticipate selecting artists to design and install 2-3 benches (possibly more) across the 112-acre site.
POTENTIAL OPPORTUNITY 2: Interpretive Panels
Another goal is to install up to 10 panels that showcase the past, present, and future of the Greater Eastside. These panels should serve as standalone pieces of art while creating an engaging storytelling experience when viewed in sequence. Artists will be encouraged to explore and celebrate both the diverse community and the beautiful natural resources of the neighborhood.
POTENTIAL OPPORTUNITY 3: Interactive Play Center
In addition, we would like to invite creators to participate in our largest public art investment at The Heights, an interactive play center that repurposes reclaimed wood for childhood exploration. The concept of "Witches' Woods," a story passed down through generations, may be a guiding theme. Our intent is to incorporate accessibility and amenities for multiple generations, including seating areas, gardens, and more.
POTENTIAL OPPORTUNITY 4: Art Experiences
We envision up to three additional art installation to be placed throughout the site. These would be unique, interactive experiences that showcase the vibrancy of neighborhood. Concept and material requirements will be minimal, and priority given to proposals that celebrate the rich cultural heritage of the community.