Bonding Bill and River Commerce: What Happens Next?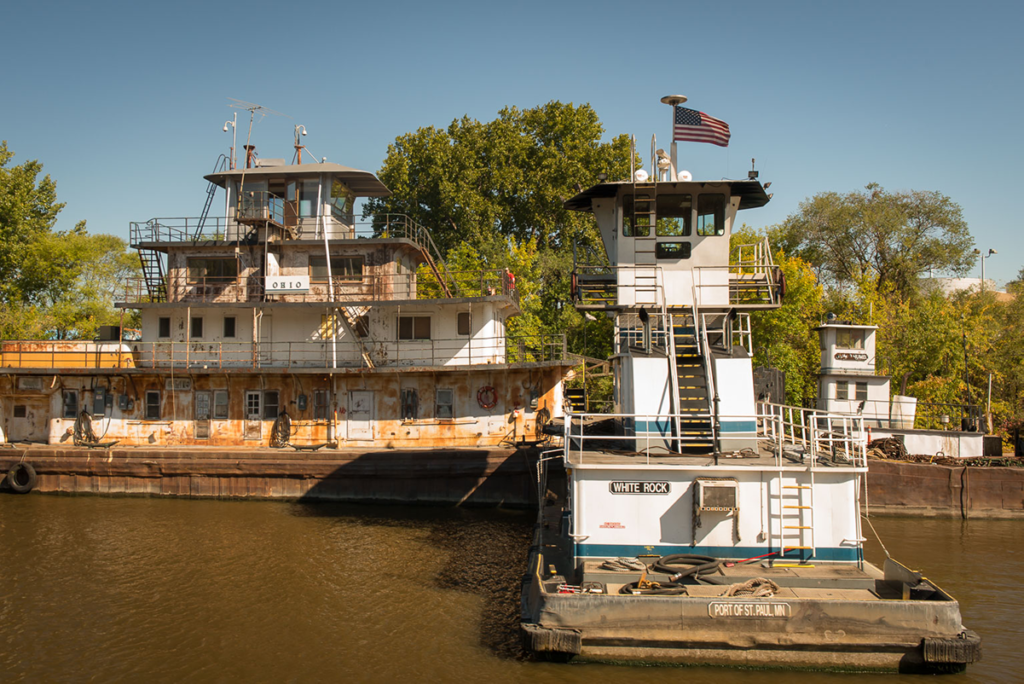 The 2018 Minnesota bonding bill included $5.2 million for the Port Development Assistance Fund. According to Kathryn Sarnecki, VP harbor management at the Saint Paul Port Authority, "This is a huge win for Minnesota ports and will go a long way to fund $10 million in infrastructure projects we [Minnesota Ports Association] have already identified.
The Minnesota Department of Transportation's Port and Waterways group will ultimately determine how funds will be allocated. Each port will submit their requests for review. Applications will be rated, and funds allocated to top projects.
Ports Pulling Together
In addition to the Saint Paul Port Authority, there are public ports in Duluth, Red Wing and Winona. While the ports vie for the same dollars, they take a collective approach by lobbying for state funds together through the Minnesota Ports Association, a collaboration created 26 years ago.
Sarnecki adds, "What's unique about the port development program, and taking our request to the legislature, is that we have found support from both sides of the aisle and from both rural and urban legislators in the State of Minnesota. This support allows Minnesota to be an economy that competes on a world-wide scale. It also shows the commitment our legislators have to river shipping and the farming community."
Farming Facts
River shipping provides farmers a cost-effective way to get grains to market and fertilizers on fields.  According to Ben Doane, barge freight merchandiser at CHS, 60 percent of all grain exports are directed through the U.S. Gulf Corridor. As Doane explains, "The Mississippi River is the link in the chain that connects local growers to the global marketplace."
He adds, "The river system in the United States consists of 12,000 miles of waterways, spanning 38 states. Barge exports equate to $250 billion in revenue nationwide." The State of Minnesota ranks #4 in the nation for agricultural exports. Grains including soybeans, corn, feed and wheat, account for $539 million in annual sales and $381.7 million of the Gross State Product (GSP). Source: Value of Trade Study, 2014, US Grains Council.
 Saint Paul's Red Rock Request
The Saint Paul Port Authority is evaluating two potential projects in Saint Paul. The first is at the Red Rock Terminal where a significant safety risk has been identified. Rail cars, which play a key role in the intermodal transportation system, frequently block industrial terminal entrances for upwards of 90 minutes at a time. In the case of a medical emergency, it is likely emergency vehicles would be unable to enter or exit in a timely manner.
This is a risk to the hundreds of individuals coming in and out of Red Rock on any given day, including employees and truck drivers trying to get grains to market, asphalt to road projects or cement to construction projects. In addition to safety concerns, their ability to do business in a timely manner is also negatively impacted.
The identified solution is an alternate access point for the rail, one that would bypass terminal entrances.
Saint Paul's Southport Request
The second request would support a grade separation at the entrance to the Southport Terminal, allowing the road to bridge over the existing railroad tracks. Like the Red Rock project, this would eliminate traffic back-ups including heavy truck traffic and decrease idling emissions. This request is also important to Saint Paul residents living near the terminal. Through the city's Southport Industrial Study, residents expressed concerns about dust, vehicle emissions and overall air quality.