Port Authority Recognized for LEED Silver Project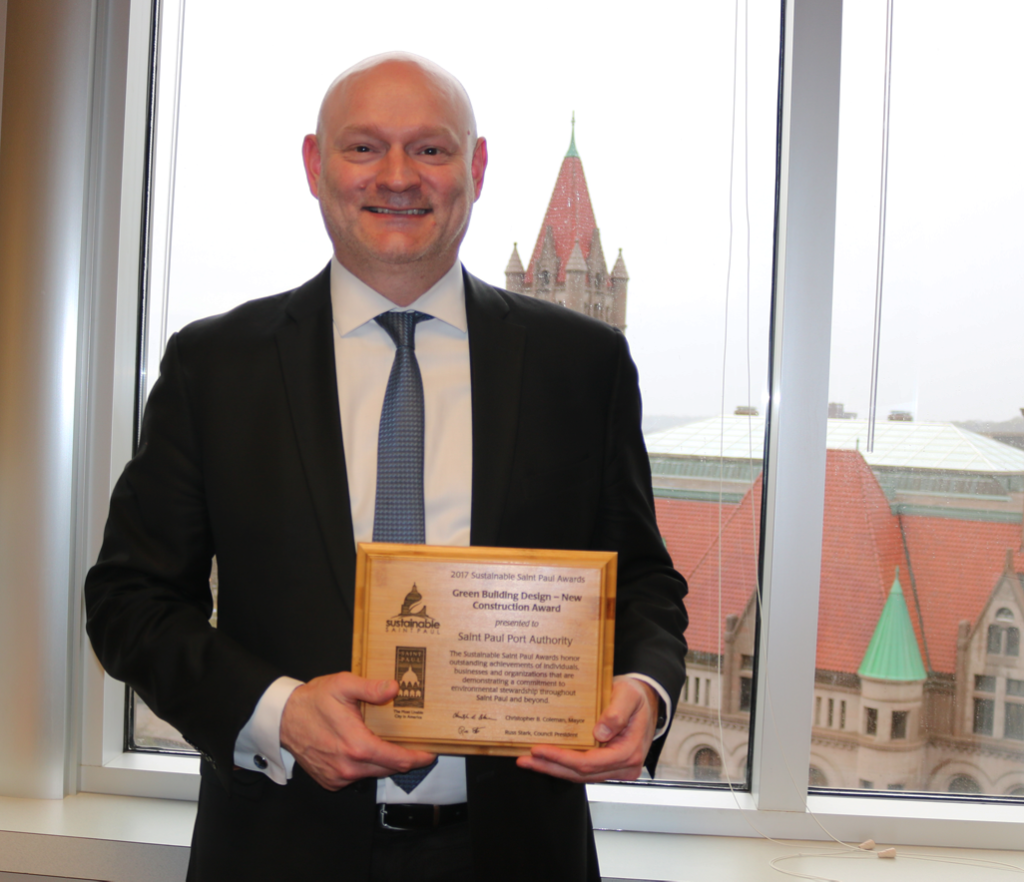 Today, the Saint Paul Port Authority received a Sustainable Saint Paul Award in the Green Building New Construction category, for their work on the Saints Business Center. The property, located at the site of the former Saint Paul Saints stadium, is the first LEED Silver, multi-tenant, spec-office warehouse in the country.
What is LEED Silver?
Leadership in Energy and Environmental Design (LEED) is a rating system created by the U.S. Green Building Council to evaluate the sustainable performance of buildings. Silver status is achieved with a score between 50 and 59 points; the Saints Business Center achieved a score of 52.
Points were given for a variety of elements, including:
·         Renewable Energy Features
·         Brownfield Redevelopment
·         Storm Water Design
·         Light Pollution Reduction
·         Water Use Reduction
·         Use of Recycled Materials
·         Use of Regional Materials
·         Use of Low-Emitting Adhesives, Coatings and Paint
The Saints Business Park Story
The Port Authority acquired the property in 2014 and invested $5.5 million in brownfield remediation, with $3.5 million coming from grant funds. Remediation included the removal diesel fuels, animal waste and methane, all left behind after years of the property being used as an unpermitted dump site.
The Saint Paul Port Authority transferred its interest to Capital City Properties (CCP), the Port's nonprofit arm, and formed a joint venture with United Properties. The Port Authority took responsibility for the environmental and geotechnical aspects of the project. United Properties guaranteed the debt and provided equity.
As a result, a 186,000-square foot shell structure was built with Capital City Properties and United Properties each maintaining 50 percent ownership. Tierney Brothers became the first tenant in November 2016, leasing 52,000 square feet. The move allowed Tierney Brothers to consolidate its growing operations to one location, with double the space, for its 100+ employees.
Space still remains for future commercial tenants. For more information, contact Monte Hilleman at mmh@sppa.com.