Award Winning Engineers at Allianz Field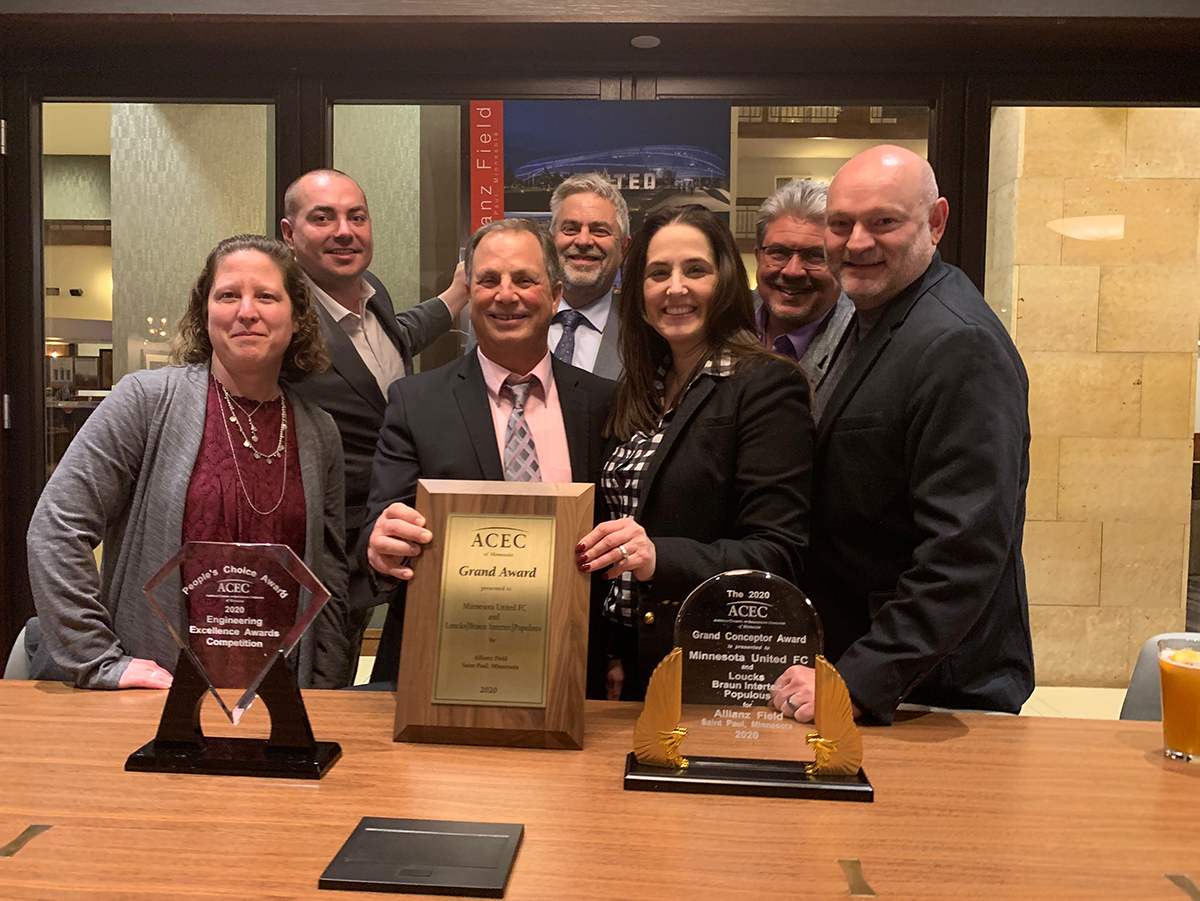 It was an honor to celebrate with Braun Intertec, Loucks, and Populous as part of the team recognized for engineering excellence on the Allianz Field redevelopment project.  On January 24, 2020 our group went home with three Engineering Excellence Awards, given by the American Council of Engineering Companies of Minnesota.
The Team
The Saint Paul Port Authority got involved with Allianz Field in 2016, at the request of the City.  Initially, our role was to assist the City in negotiating a net ground lease with Metro Transit. Soon thereafter, soil and ground contamination were identified. The Port Authority was called on to manage the environmental cleanup. We were a natural fit due to our proven track record leading public-private partnerships and brownfield remediation projects.
From there, we were joined by Braun Intertec, Loucks, and Stoel Rives. These organizations provided expertise in the areas of civil engineering, geotechnical engineering, environmental engineering, and management of environmental legalities. Over the course of three years, the team met weekly to create a plan that met the City's sustainability requirements while protecting both human health and the environment.
True Innovation
In the end, all goals were achieved. Thanks to the engineers, Allianz Field now boasts the largest comprehensive stormwater management system in the region. Rain that falls onto Allianz Field is captured in an underground system, located beneath the Great Lawn. It is then made available for reuse. In fact, the system will conserve more than two million gallons of water each year.  All properties on the 35-acre superblock, new and existing, will be able to tap into the system.
The soccer team also deserves credit for their financial contributions. They invested millions of dollars into remediation and infrastructure improvements. The Port Authority then helped close the financial gap, and protect financial viability of the project, by securing environmental grants.
"While the work of the environmental team isn't the most visible contribution to Allianz Field, it is nonetheless a critical factor that allowed the project to be completed," explains Monte Hilleman, senior vice president of real estate development. He adds, "This is the most complex cleanup project the Port Authority has ever been involved with, at least in the 15 years that I have been here. In most cases, we cleanup sites that we own. The complexities increased significantly with multiple property owners and varying entitlements that needed to be replatted, cleaned up, and redeveloped."
Allianz Field was completed in early 2019.