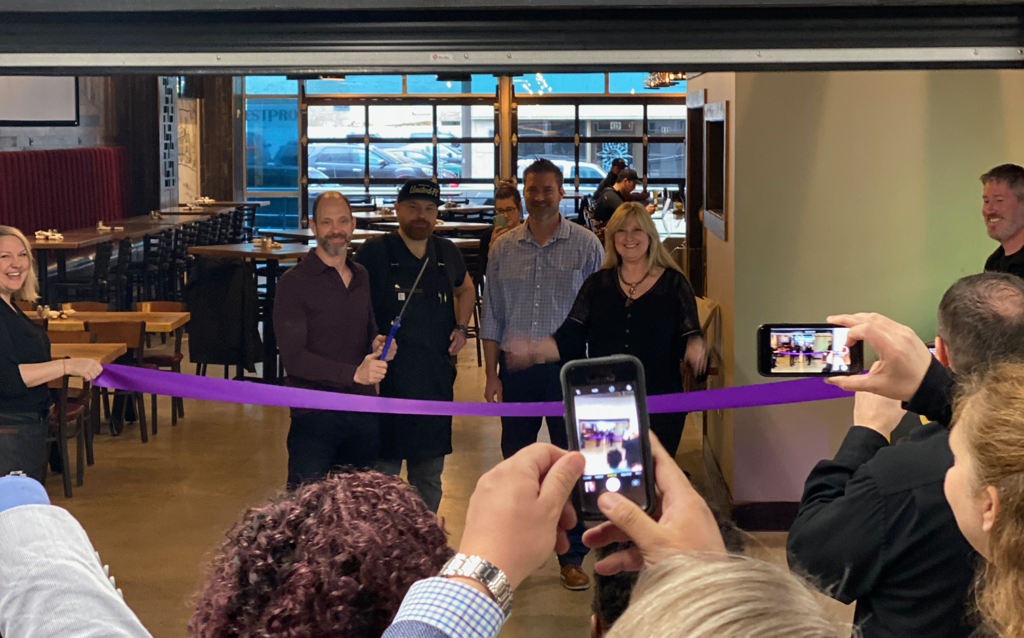 Pillbox Tavern
Pillbox Tavern is now open at Treasure Island Center. This sports-themed restaurant, owned by Bill Ashton, pays tribute to the original "Pillbox," a downtown ballpark used by the Saint Paul Saints between 1907 and 1909. Keeping with the theme, a full-wall mural depicting "old-time Saint Paul" can be found opposite the bar.
For the foodies out there, chef Graham Messenger signed on to create the menu. While heavy on burgers and sandwiches, Pillbox also caters to those who want something unique with an up-scale twist. Ashton recommends the Kung Pao Brussels sprouts, vegan falafel burger and salmon.
Why Treasure Island Center?
When asked about the location, Ashton was quick to reply that he hadn't been in the market for a new restaurant. In fact, the owners of Stacked Deck Brewing, personal friends of his, encouraged him to look at the space.  In the end, he saw potential being connected to TRIA Rink and a neighbor to Amsterdam and Palace Theatre.
As a downtown resident himself, Ashton felt there was a lack of true sports bars in the area, aside from Tom Reid's. His vision for Pillbox Tavern was to create a space for people to gather with friends and family. Enjoy great food and drinks. Watch their favorite sports teams on big screen TVs. In addition, Ashton plans to offer a karaoke brunch on Sundays. Acoustic music and DJs on weekends. And happy hour specials for the after-work and late-night crowds. Other possible ideas include video bingo and trivia.
Focused on Growth
Ashton sees Pillbox Tavern as a meeting place for the growing population downtown and influx of visitors as well. "I feel like people from the suburbs are starting to come to Saint Paul more on weekends. People are coming from the suburbs. I think Saint Paul is going to start to really draw a lot more than Minneapolis from the suburbs," said Ashton. "We're watching Saint Paul do the revitalization and it's kind of at the ground level."
Pillbox is the second business to open its doors at Treasure Island Center in 2020. Last month, the Saint Paul Event Center celebrated its grand opening and Red's Savoy Pizza is not far behind. D1 Training is also expected to open its first Minnesota location later this year.