World Record for the City of Saint Paul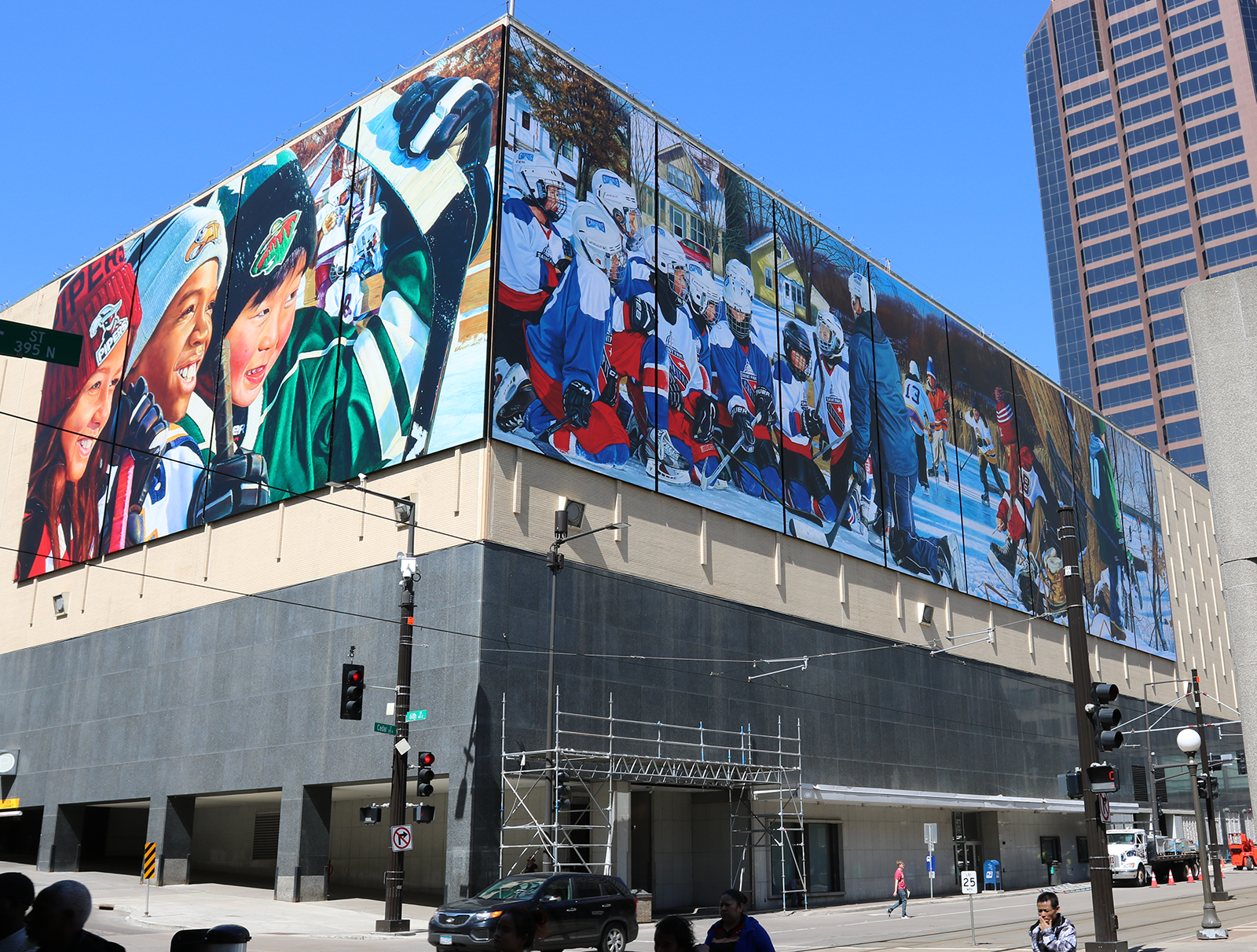 World's Largest Hockey Mural Now in Saint Paul
According to Google research, Toronto claimed stake to having the world's largest hockey mural with a 100' installation in April 2017.  Fast forward a year (give or take) and the honor transitions to the City of Saint Paul with the installation of Made in Minnesota, which covers 300' x 50' of real estate on the corner on 6th and Cedar Streets.
"Not to be competitive, but we are in the State of Hockey," explains Lee Krueger, president, Saint Paul Port Authority.
The Port Authority commissioned local artist Terrence Fogarty to create the original artwork, which was reproduced at a larger-than-life scale and installed on the outer walls of Treasure Island Center.
 "It's exciting to see the Treasure Island Center mural come to life on the corner of 6th and Cedar in downtown St. Paul!   It's a colorful bit of fun on an otherwise non-descript city intersection.   Kids playing sports and having fun always brings a smile, so the elements for the mural are very basic; kids, outdoor hockey and fun.  I think it's a nice fit for the capital city in the State of Hockey!" adds Fogarty.
The final panel was installed Wednesday, May 2, 2018 as part of a larger redevelopment project that saw the transformation of a vacant, four-story Macy's department store into a vibrant, mixed-use facility with office, retail and entertainment options.  TRIA Rink, located on what used to be the rooftop, is now the official practice facility for the Minnesota Wild and home of the Hamline Pipers' hockey program.
The Inspiration
The inspiration for creating the world's largest hockey mural was two-fold. The goal for the project was to remove a significant amount of brick throughout the building, reserving a small portion to pay tribute to its history. The cost of converting the parking ramp into an open-air concept proved too costly with significant modifications needed on both the interior and exterior.
The second objective was to make a statement about what  Treasure Island Center and TRIA Rink are all about. "If Minnesota is going to continue to be known as the State of Hockey, the game needs to appeal to a wider audience from youth and high school to college and professional teams. Our goal for Treasure Island Center, and more specifically TRIA Rink, is for the outside of the building to match what is happening on the inside," says Krueger.
He adds, "We want the mural to be about the kids, the State of Hockey and the economic driver the sport is to the City of Saint Paul."
Own the Original
The original painting is currently in storage, but our intent is to place it in the best possible home. The artwork consists of three panels, 20″ x 40″ each (20″ x 120″ total).  If you're interested in learning more, contact the Saint Paul Port Authority.