Treasure Island Secures Naming Rights for former Macy's Building in Downtown Saint Paul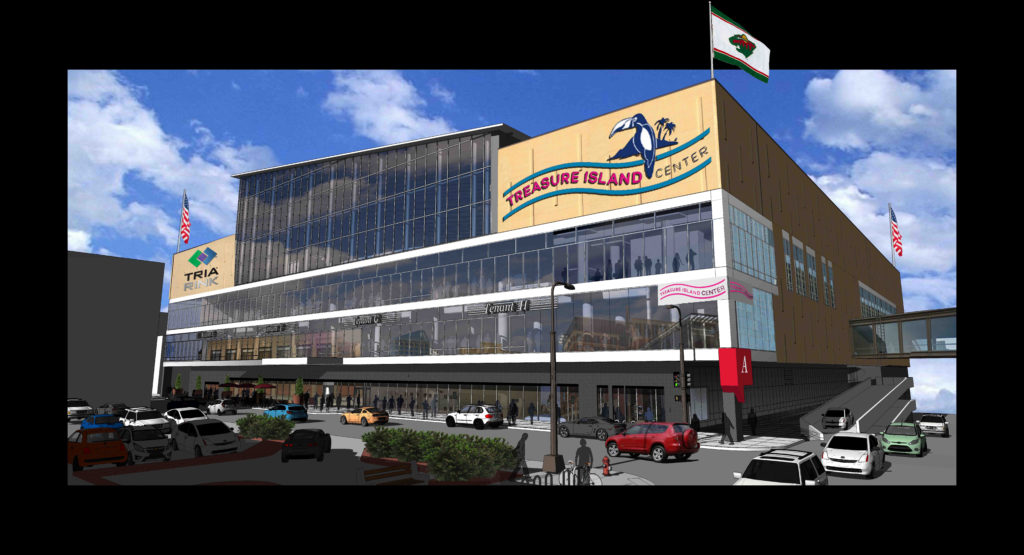 Treasure Island Resort & Casino announced that they have entered into a multiyear agreement with Go Wild LLC, a joint venture between Hempel Companies and the Saint Paul Port Authority, for naming and sponsorship rights of Wabasha Center, formerly Macy's in downtown Saint Paul. The building will now be called Treasure Island Center.
"The Treasure Island Center is an exciting opportunity to be actively engaged in the revitalization of downtown Saint Paul. Saint Paul has always been an important market for Treasure Island Resort & Casino, and it is even more significant to us as a Dakota Tribe because it is within our historic territory.  We have been involved with similar projects and know the impact it will have on transforming the heart of Saint Paul, bringing more people, tourists, businesses and other development to the area. This venue will also serve as the home of the Minnesota Wild practice facility. We have been a partner to the Minnesota Wild for nearly two decades and this is another example of our commitment to their organization and success," said Shelley Buck, Prairie Island Indian Community Tribal Council President.
"Treasure Island has been an important and valued partner of the Minnesota Wild from the beginning," said Minnesota Wild Vice President of New Business Development and Assistant to the Chairman Jamie Spencer.  "They share our commitment to the vitality of Saint Paul and have gone to great lengths to improve the downtown experience for our fans and neighbors alike."
"Having Treasure Island put its name on this incredible hub is a testament to the investment happening in downtown Saint Paul," said Saint Paul Mayor Chris Coleman. "I look forward to seeing more vibrancy and energy in this area as Treasure Island Center becomes a destination for residents and visitors alike."
"Thanks to Treasure Island's support of this project, we are seeing increased momentum overall.  I am confident that additional sponsorship agreements will fall into place in the months to come," said Lee Krueger, president, Saint Paul Port Authority. "It is encouraging to see the business community stand behind the work we are doing to make Treasure Island Center a reality.