Meet Emily and Linda: The Dynamic Legal Team at the Saint Paul Port Authority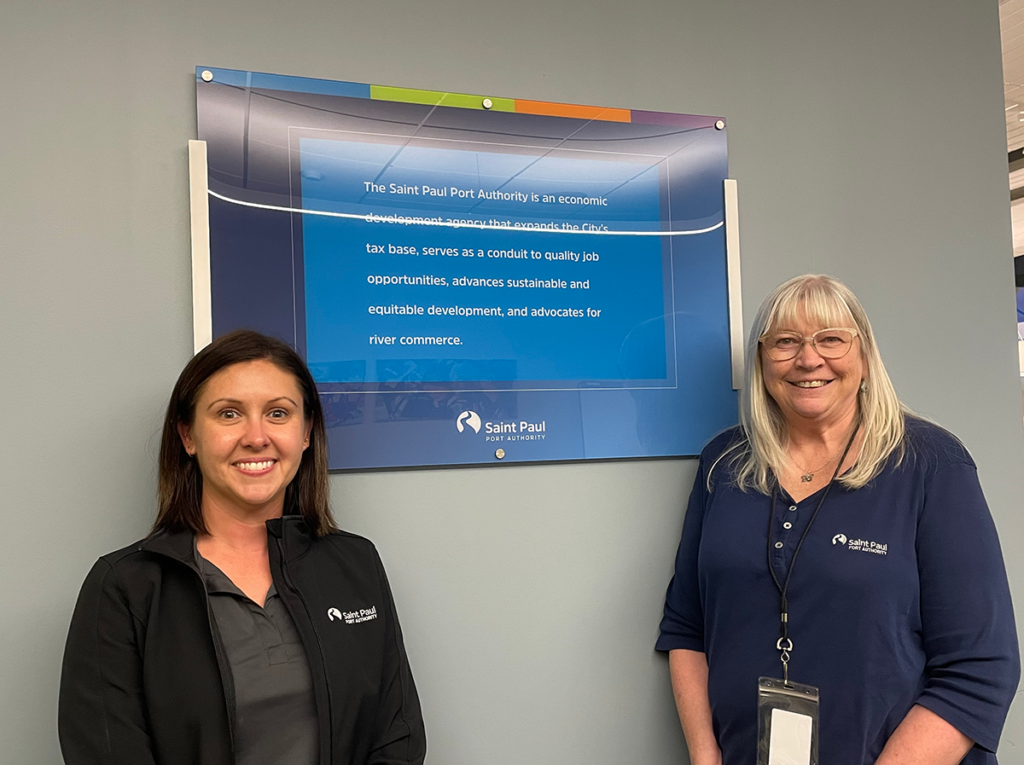 Meet Emily and Linda
We're excited to introduce you to two remarkable members of our team at the Saint Paul Port Authority (SPPA). Meet Emily, our General Counsel, and Linda, our MN Certified Paralegal. Not only are they skilled legal professionals, but they also bring a sense of camaraderie, teamwork, and fun to their work.
A Synergistic Duo at the Saint Paul Port Authority Legal Department
Emily and Linda embody the spirit of teamwork. They collaborate seamlessly on both independent and joint projects, bringing their unique perspectives to the table. Communication is key in their partnership; they regularly update each other on project progress, solving problems together and making the process enjoyable.
Their weekly meetings – though frequently can vary – provide an opportunity for brainstorming, strategizing, and celebrating achievements. Their roles involve critical legal decision-making for SPPA and any of its subsidiaries, reviewing documents and contracts, and ensuring compliance with the law.
Skill Building and Growth
In their time at Saint Paul Port Authority, Emily and Linda have honed a variety of skills, including updating templates, contracts, and leases, writing, listening, researching, and problem-solving. Their days are consistently diverse and dynamic; they constantly engage in research, writing and networking.
Emily prefers to start her day with a clear to-do list, while Linda jumps into her day by first checking her emails and calendar. Their duties encompass contract management, meeting deadlines, presenting, project management, and lease/insurance tracking.
Project Highlights and Career Drivers
Some projects they've tackled -both individually and as a team- include real estate purchases and closing, river leases, contracts with consultants, policy reviews, grant applications, insurance matters, lawsuits, litigation, and spreadsheets. What keeps them motivated? They are driven by the potential for economic development, job creation, and most importantly, the values and mission of the Saint Paul Port Authority.
Continuous Learning
To stay at the forefront of their profession, Emily and Linda regularly work on diverse projects and attend conferences and seminars. They enjoy working with Excel, embracing technology, researching, signing documents, and staying on track. Their shared values and excellent teamwork make their journey even more rewarding.
Saint Paul Port Authority Legal Team's Career Pathways: A tale of Two Journeys
Emily's career pathway is an inspiring story of ambition and growth. Starting as an English teacher for middle and high school students, she yearned for more. After attending law school and spending a few years at a law firm, she worked in the legal department of a manufacturing company. Seeing an opening at SPPA, she took the initiative to apply as she had previous knowledge of SPPA through her first internship and legal job at a local law firm.
On the other hand, Linda had a clear vision for her career from the age of 19. After earning her degree in the legal sector, she worked in the private and corporate sector before joining SPPA.
Words of Wisdom
As we wrap up, we'd like to share Emily and Linda's words of wisdom. Emily advises us to "Keep an open mind," while Linda reminds us that "Teamwork makes the dream work." Their advice perfectly encapsulates their work philosophy and the spirit of collaboration at Saint Paul Port Authority.