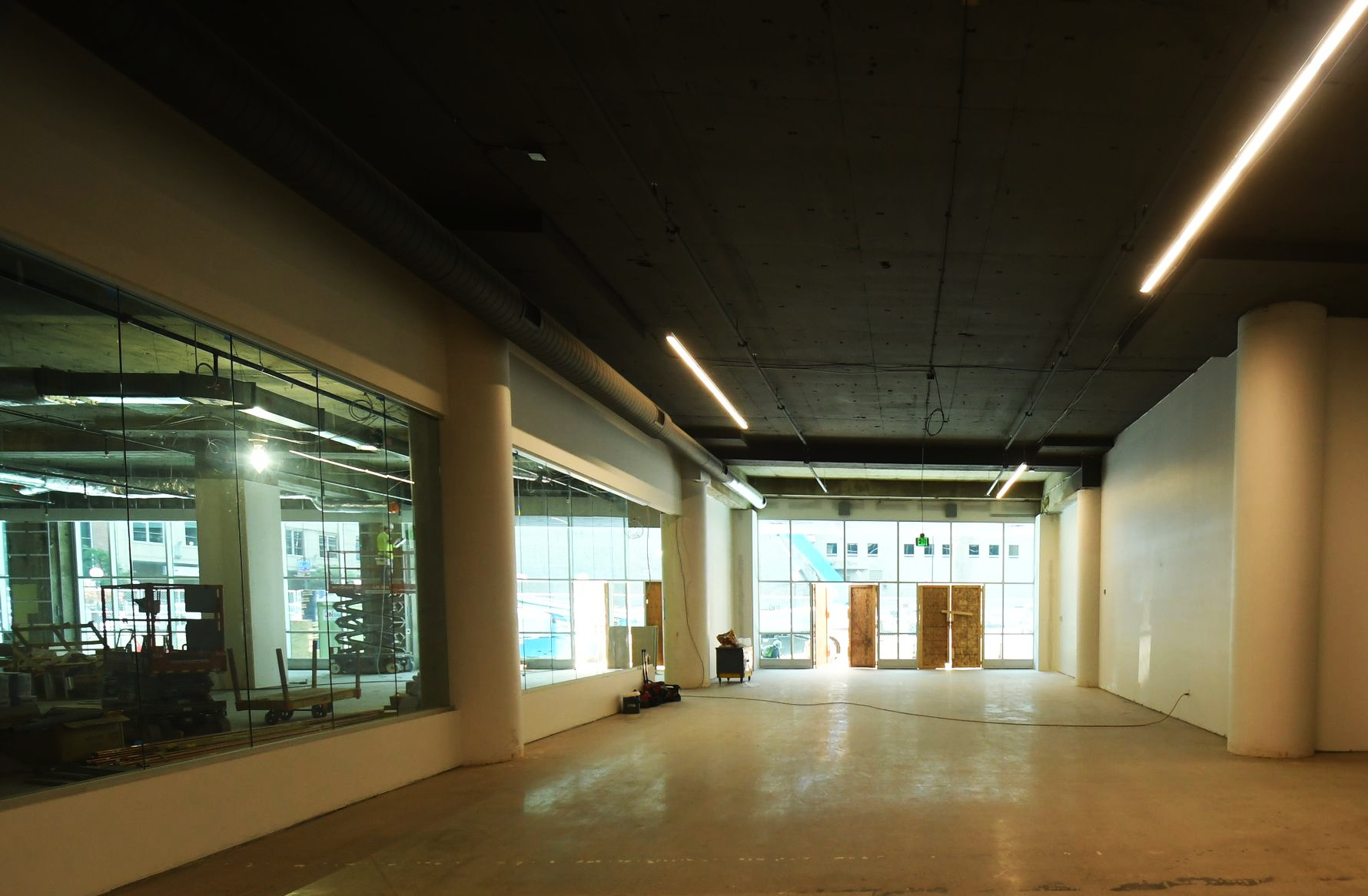 Welcome to the Inside of Treasure Island Center!
400 Wabasha Street N | Saint Paul, MN
This view is from inside Treasure Island Center, looking onto Wabasha Street. In just a few short months, you will be able to walk through these doors and find Walgreen's to your right and Tim Hortons to your left. This is no small feat and we extend gratitude to our partners at Hempel Companies, RJM Construction, and the 150 hardworking individuals who are on the job site each day.
Top Down Tour
Level 5
The biggest buzz at Treasure Island Center is TRIA Rink, practice facility for the Minnesota Wild and future home of the Hamline Pipers hockey programs. When the hometown teams are off the ice, it will be available to outside groups. In fact, we expect the 5th floor to be one of the busiest spots in downtown Saint Paul both day and night, weekdays and weekends. Between games, practices, tournaments and camps, we project 600,000+ visitors per year. Thanks to the generosity of our sponsors – Treasure Island and TRIA – we were able to make the additional investments needed to make TRIA Rink a true community asset with six public locker rooms and seating for 1,200.
Ice time sales will be managed by a subsidiary of the Minnesota Wild.
Floor Trivia: It took an additional 12,000 pounds of concrete to add the enclosed rink to the space that used to be the top of the parking ramp.
Level 4
Directly below TRIA Rink is Treasure Island Center's first official tenant, Minnesota Housing. Their 240+ employees moved into the building on Tuesday, September 5.
Floor Trivia: This space has been vacant for more than 20 years. At one time, you could shop for furniture on the 4th floor.
Level 3
Level 3 features the top of Walgreen's two-story retail space. Potential third floor neighbors include an event center and fitness center. Announcements will be made as lease agreements are signed.
Skyway access will reopen with connections to the Wells Fargo and Ecolab buildings. 
Trivia: This floor is best remembered for the soft-serve frozen yogurt station and men's department.
Level 2
Level 2 is unique in that it offers street level access on Wabasha and skyway access on Cedar (thanks to a change in elevation). Enter the front door and  TRIA Orthopaedic Clinic will be front and center. Walgreen's lower level will be to the right and the smell of fresh coffee, donuts and sandwiches will come from Tim Hortons on the left. There are also plans for a restaurant to open next to Tim Hortons – think Tex Mex meets BBQ – but a lease agreement has yet to be signed.
Skyway access to the Wells Fargo building will reopen.
Floor Trivia: This floor looks a lot different today, but at one time it was the place to go for fashionable women's apparel and haircuts.
Level 1
Level 1 is the lowest floor that will be open to the public, with street level access on Cedar. If you love microbrews, this may be your favorite floor. Stacked Deck Brewery will be coming in early 2018. Consider trying one of their original brews, possibly The Jack of Hearts, Bet on Black or Double or Nothing IPA. 
This floor will be connected to the Wells Fargo building.
Floor Trivia: Fans of the River Room will have a hard time imagining where the famous popovers were  once served on the 1st floor.
Level 0
You need to go 40 feet below ground on the Wabasha side to find the Minnesota Wild's training facility, which really is the ultimate man cave. For obvious reasons, this is the only level that won't have windows.
Floor Trivia: Before being abandoned 20+ years ago, this floor housed the Iron Horse restaurant and a men's club. It seems the concept of a "man cave" continues, but with a modern twist.
Click here to learn more about how the Saint Paul Port Authority got involved with this project.